Badger Realty Group is proud to be recognized as one of Dave Ramsey's Endorsed Local Providers (ELP). This endorsement is given to trustworthy, high caliber real estate agents who are well-respected in their communities. Click here to learn more about the ELP program and the top 3 reasons why you should choose to do business with an Endorsed Local Provider such as Badger Realty Group.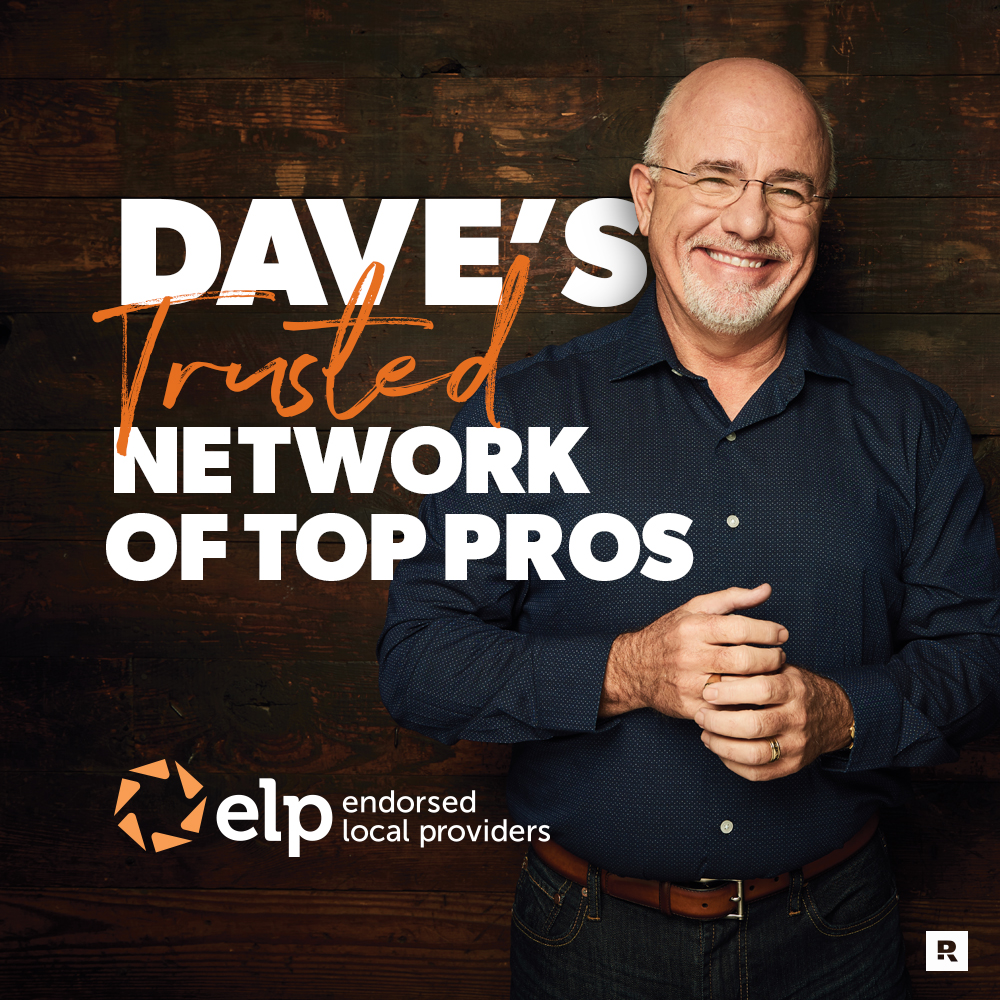 Testimonials
" Alan is a highly professional individual with exceptional knowledge concerning the current pricing and market trends in the region that he serves. Alan accurately developed a realistic selling range for our property with successful results. Alan and his team was highly responsive to all the details associated with the offers, acceptance, and closing transaction. "
- Nils
" It was my first time of having to sell my home in order to relocate to get into my next house. I was nervous about that. It has been a sellers market and Alan had put me more at ease discussing the options. He was very quick to respond to my questions and was on top of requests to show the house. Alan helped make the process quicker and easier than I ever imagined. I had a tight timeline in order to complete one final home improvement upon the buyer's request and felt hopeless that I would be able to hire someone on such short notice. Alan had the connections to make it possible and hooked my up with a local service that got the job done. He knows the community well and goes above and beyond. I highly recommend Alan and Badger Realty. "
- Carolyn F.
" Alan and Badger Reality helped us buy our new house as well as sell our old one. It was a seamless process and made, what seemed like a stressful situation, that much easier. I would recommend Alan to anyone buying/selling. "
- Allison R.
" Alan was great and super helpful! "
- Allie D.
" Alan Mikkelson was outstanding. The house we had been renting for 7 years in Deerfield was sold and we had to find something fast. Being first time home buyers, and not knowing the process at all, Alan helped us through every step. He answered all of our questions thoroughly, as well as our daily phone calls. Alan also made it a point to come to every meeting, walk-thru, and inspection, no matter what time it was. I highly recommend Badger Realty if you are looking to buy or sell a home. "
- Lisa G.
" Trina did an excellent job dealing with the property we sold, even tho we did not have much time to get everything together, she worked very hard with us to insure the deal got completed. Could not have asked for a more competent Realtor! I would certainly recommend her to anyone looking to buy or sell. Great Job, Trina, we thank you so much! "
- P. Meyer
" My wife and I were first time home buyers, and Alan was a Godsend! He walked us through the daunting process of purchasing a home step-by-step, patiently showing us house after house, helping us evaluate the condition of each one, and, ultimately, guiding our assessments of the value of the ones in which we were interested. He took care to ensure that all our questions and concerns were addressed during the purchase offer process, and provided sage advice through each phase of negotiations with home sellers. After working with Alan for months, we finally found a house we loved at a price we could afford. Alan proved to be the consummate buyer's agent! His positive attitude and great sense of humor made every business interaction with him a pleasure. If, heaven forbid, my wife and I ever decide to buy a house again, Alan would be the first person we'd call. Of course he's already got many years of experience, so he'll probably be retiring by the time we ever get around to buying a home again. But I'm just saying, hypothetically, if I did want to buy another house anytime in the not-too-distant future, Alan is our go to guy. We trusted him to guide us in making the home purchasing decisions that were right for us, and we couldn't be happier with our results. "
- J.B. C.
" I contacted Alan to see a property and he responded right away and set up a showing. Though that house didn't work out Alan was so helpful and knowledgeable that I knew we would be able to work with him. He showed us 2 other houses and one of them was perfect for us. Alan made the purchase of it easy and provided us with a lot of useful information that made the process clear. We will be working with Alan again when we are ready to sell our house. I would highly recommend Alan if you are looking for a real estate agent. "
- James P.
" Recently worked with Alan selling and with the purchase of our new home. Alan and badger reality need an awesome job and everything got done on time with no delay. If or when i ever sell or buy anything again they will be the first I call. Thank you "
- Brian D.
" Alan was great to work with in the buying process. We were kind of, sort of, looking and he checked in every so often with new houses that were hitting the market. He helped us realize what exactly we were looking for and eventually we found the perfect house. Goes to show he listened to everything we wanted and found the house we wanted. He was always available to answer any question we had throughout the process. He even offered us to borrow an enclosed trailer if we didn't have one already. The process was smooth thanks to Alan and would not hesitate working with him again in the future or recommending to others. Thanks, Alan! "
- Kevin F.
" Great experience! Alan is a pro at real estate. "
- Daryl F.
" I would recommend Alan to any one that wants to sell or buy a home. He is very professional and explains your questions and concerns to great detail. He is fair and honest to both the seller and the buyer so no one feels uncomfortable including himself witch means he takes pride in his job and for me that means a lot. It's hard to trust someone you don't know with your biggest investment in life .your home! Alan quickly becomes likeable and before you know it he's a friend! I chose Alan because he has high ratings and I seen his listings advertised on line and through out town.he is truly a FIVE STAR rating sincerely James O. "
- James O.
" We appreciated their quick communication, knowledge of the area and what was coming on the market (we saw our house before it went on the market) and their diligence in making sure our wishes were communicated with the seller. Would highly recommend the team! "
- Holly S.
" Alan and crew were fantastic in helping us buy our new house as well as sell our old house. They were available to answer all questions and made the house buying/selling process run smooth. I would 10/10 recommend Alan! "
- Allison F.
" We used Alan to assist us in selling 4 lots, he was very friendly, down-to-earth, and always willing to answer questions or chat about questions/ideas. We sold all four lots and were happy with the job which Alan did as our realtor. "
- Luke V.
" Alan was awesome! He took us seriously and was extremely helpful in finding the perfect home for us and explaining everything step by step for our first home buying process. He made everything so easy. Alan is the best! "
- Gabrielle B.
" Alan was great to work with, as a first time buyer he made it very easy. Quick responses and he always took the time to explain all options. Would not hesitate to work with Alan and Badger Realty Group again in the future. "
- Andy C.
" Thank you Alan Mikkelson & Badger Realty! I can't thank Al enough for guiding me through the process from start to finish. What I thought was going to be a very cumbersome experience, was really quite simple and flowed smoothly. I felt comfort knowing Al was there when I needed him and when I did have questions he promptly responded. I recommend Al & Badger as your realtor. "
- Drew
" I would definitely recommend Alan for buying or selling a home! He made the process of selling of selling our home quick and painless! Both he and his office staff were friendly, easy to communicate with, and their response time was super fast! "
- Janelle D.
" We purchased our first home in July. Alan was excellent to work with. He is incredibly knowledgeable about the housing market in Deerfield and all of the surrounding towns. Most importantly he is genuine. We plan to stay in our home for a long time but we will absolutely use Badger Realty in the future. Alan is the best! "
- Katie B.
" It would have been a much more stressful process to sell/buy our homes if we hadn't been in such good hands. Alan Mikkelson was patient, knowledgeable, and enjoyable to work with from start to finish. We couldn't have been happier with our experience with Badger Realty. "
- Jessica & Zeke R.
" Alan put almost more work into the purchase of our first house than we did! For every question there was a well explained answer and every step of the process was planned out perfectly. Everyone I know even slightly interested in looking at homes knows to go to BADGER! "
- Taia P.
" We liked everything about having Alan as our realtor. He knows the market very well, and suggested a higher list price than another agent we got a consultation from. We were able to get exactly what we wanted out of our house sale. We would recommend Alan to any prospective home buyers/sellers! "
- Scott T.
" We loved working with Badger Realty Group! They helped us purchase our first home, sell it and buy our second home in a different county due to a job relocation. Alan and his team are always up to date on whats going on in the market, trustworthy and friendly. We would highly recommend them! "
- Lindsay K.
" I would highly recommend Alan! He stuck with us for months and months and found us our perfect home. We would've been lost through our whole process without him. When it came down to it he really did a great job in this crazy market of buying our first home. We can't thank him enough for all of his hard work. "
- Mason & Jenna L.
" We had a positive experience with Badger Realty Group. When selling our house, they were quick to come up with different marketing tools that most companies wouldn't think it. We had honest communication and appreciated the teams suggestions. Another house in our neighborhood listed the same time we did but they used a different realtor company. Ours sold just under 4 months, theirs was close to a year. Although it wasn't necessary, Alan came to the closing and provided an thoughtful and unique gift (to both the seller and buyer). Thanks for your hard work! "
- Jenn C.
Previous
Next